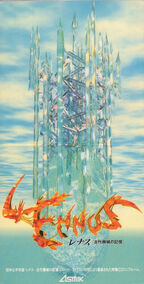 Welcome to the Lennus World was a promotional CD released in 1992 alongside the original release of the Lennus cart for Super Famicom in Japan. It was composed by
Kouhei Tanaka
and published by
Asmik
. It consisted of 1 CD with ten tracks, totally 19:48 of play time.
Track listing
Edit
2. Naskuot Opening
3. Naskuot Town (Peaceful)
4. Field Battle
5. Dungeon Theme
6. Saskuot Field
7. Parade Festival
8. Boss Character's Battle
9. Zeigosu's Theme
10. Theme of the Turning Time
Ad blocker interference detected!
Wikia is a free-to-use site that makes money from advertising. We have a modified experience for viewers using ad blockers

Wikia is not accessible if you've made further modifications. Remove the custom ad blocker rule(s) and the page will load as expected.