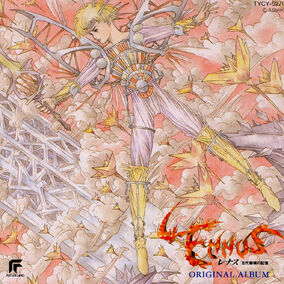 Lennus ~ Memory of the Ancient Machine Original Album was an arranged CD of 10 tracks (totaling 30:37 of play time) featuring medleys of music from Lennus as well as narrated tracks featuring Japanese voice actors playing the parts of
Richter
(Mouth),
Chezni
, and
Midia
to tell the story of the game. It was released December 9, 1992, shortly after the original release date of Lennus. It was composed by
Kohei Tanaka
, arranged by Masami Kishimura, and published by Future Lands.
Track listing
Edit
2. My Name is Richter (narrated)
4. Wandering ~ The Secret of Lennus (narrated)
6. Sacred Fighter (narrated)
8. Encounter with Fate (narrated)
9. Zeigosu -The Final War-
10. And a Myth (narrated)
Ad blocker interference detected!
Wikia is a free-to-use site that makes money from advertising. We have a modified experience for viewers using ad blockers

Wikia is not accessible if you've made further modifications. Remove the custom ad blocker rule(s) and the page will load as expected.